COMPLIMENTARY 90-Minute Virtual Workshop
Thursday 25th March| 3.00 pm - 4.30 pm
Next Workshop Starts In
We would like to offer you the opportunity (along with a work colleague) to experience at first hand our complimentary 90-minute virtual workshop.
Many managers (and their teams) are facing lots of challenges in this new working environment:
• finding it hard to switch off and establish routines
• taking longer to complete tasks
• missing the social interaction of the office setting
• new recruits don't get to meet new colleagues
• customer engagement is proving more difficult
In this 90-minute virtual workshop you will learn:
How to motivate your team from a distance – the types of questions you need to be asking
How to effectively manage the frequency of your 1-1 communication and team communication
How to manage well-being – "this is a time, to care, about what the people you care about, care about"
How to hold your team accountable – with a focus on outcomes, not activity – and build a culture of trust
How to deal with increased levels of anxiety among your customers – stay calm, listen, be reassuring
How to see this as a time of opportunity – to develop new skills personally and within your team.
Delivered on our Zoom platform the workshop is a great opportunity to experience at first-hand Leading Edge Leadership's highly interactive, practical and exciting workshops with the use of features such as chat, breakout rooms, polling, short facilitated discussion, story-telling and multimedia.
This workshop is open to those in a decision making position in organisations with 50+ employees (CEO, Head of HR, Head of L&D, HR Manager, L&D Manager etc) who would like to experience Leading Edge Leadership's unique style of facilitation and virtual training delivery. There will be two places available in the workshop for each organisation.
We are expecting a big demand for places and have a limit of 20 attendees in the workshop.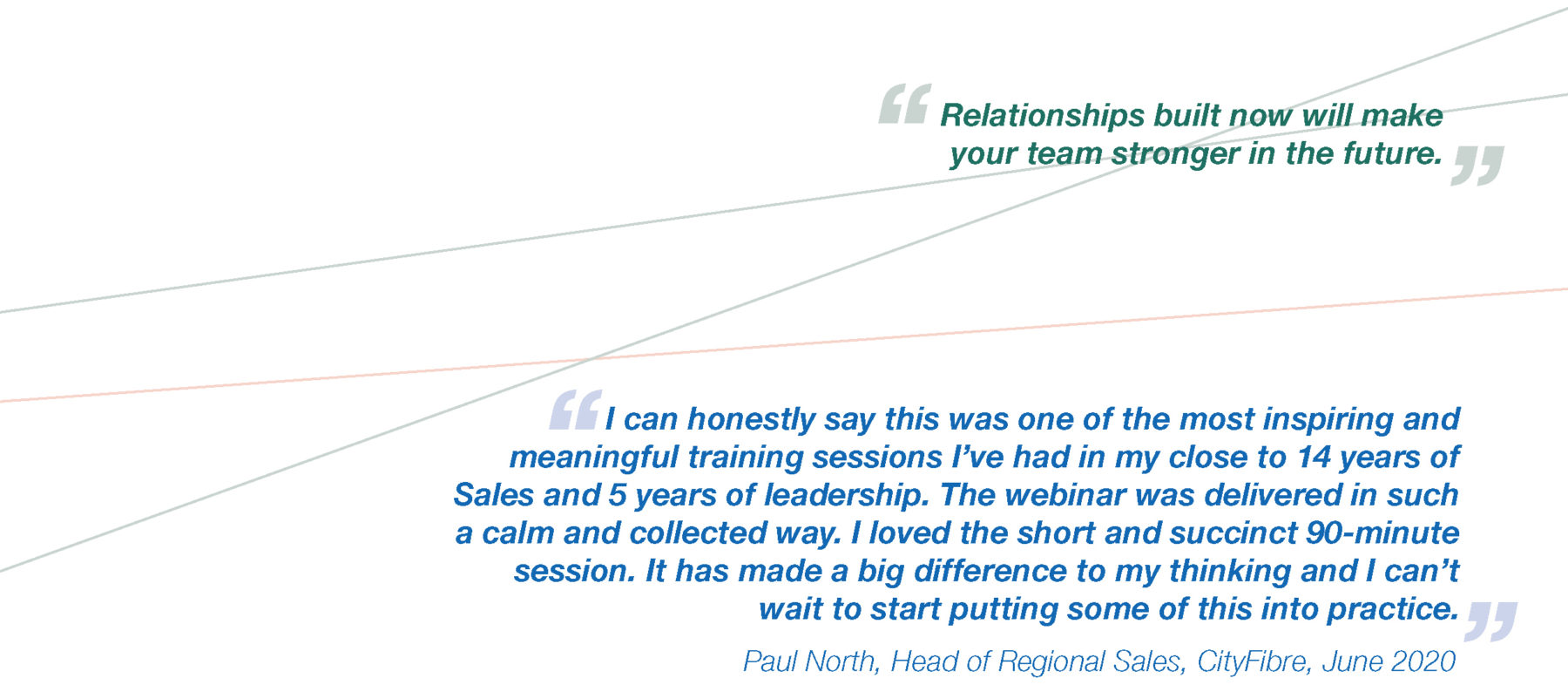 Usual Price
Usual total price for 3 Workshops
£1350 + VAT
Introductory Offer
Introductory price for 3 Workshops
£750 + VAT
The workshops are delivered on your premises.
Up to 20 delegates can attend each workshop.
We provide all the training materials – at no cost to your organisation.
We will cover trainer travel costs for workshops delivered in London/Greater London – we do charge trainer travel costs (and accommodation costs where necessary) for workshops delivered outside London/Greater London.
There will be no onus on you to commit to further training. All we ask (as part of this offer) is that a key decision maker attends at least one workshop and that we have a brief 15-minute meeting with them immediately after the workshop.
If you would like to talk to us about this offer or any other courses
you are more than welcome to get in touch.